iPads for Learning
iPads in Schools
This is a wonderful LiveBinder full of insights into using iPads in the classroom
Curtin iPad User Group Scoopit
This is an online magazine of collected articles and resources regarding iPad use both personally and educationally
iPad Lesson Ideas Scoopit
Another Online Magazine devoted just to iPad integration
InterAction Education
An excellent blog with a wealth of resources
Kathy Schrock's Guide to Everything
Kathy is the godmother of Educational Technology and true to form she has a wonderful site on all things iPad.
Learning in Hand
Excellent Blog by Tony Vincent with advice on iPad and all mobile technology integration. Includes everything from an administrative and teacher point of view.
Do's and Don'ts of Classroom Use
This is also Tony's list of very helpful Do's and Don'ts for iPad deployment.
50 Resources for iPad Use in the Classroom
This includes: tutorials, resources by subject, iBooks, tips, tricks and studies, and sample lessons
iPads for Education
Victoria, Australia instituted a 1:1 iPad environment three years ago and shares all that it learned about integrating them into the classroom and school.
iPads in Education
This is a comprehensive site full of useful information of all things related to deployment and use of iPads in Schools
29 iPad Resources Every Teacher Should Know About Med Kharbach shares tutorials and guides.
iPad Academy Get Schooled and Skilled on the iPad, training, tips and tutorials.
iPad Lessons
Lisa Johnson of TechChef4U created this Pinterest Board of Lessons utilizing iPads.
iPad Lessons and Apps
Sue Gorman's awesome Pinterest Board of Lessons and Apps.
iPad Insight
This is an ad heavy blog but it does have useful information, tips, and app reviews.
Teach Thought
Silvia Tolisano, AKA Langwitch's blog about iPads and its educational uses. See her slide share on
Transformational uses here
.
Tom Barrett's 106 Interesting Ways to Use iPads in the Classroom
This collaborative document keeps growing.
Slide to Learn
This is a Scrib'd book that explains well most everything in regard to iPad use in schools.
Apptivity
This is a lesson bank of lessons from start to finish utilizing Apps.
Invest in Tech
is an online collection of how-to tips with images for using Word, Excel and PowerPoint on iPad.
Apps
AppCrawlr
This site bills itself as the most relevant search engine for apps.
iPad Apps 4 School
This is Richard Byrne of Free Technology for Teachers blog about iPad Apps. An App a day is featured.
AppoLearning
The best Educational Apps hand picked by experts.
Adding Apps at GPA
This is a link to the page that gives directions to adding apps to student iPads at The Grosse Pointe Academy
Add an App
Form at
GPA
iPad As...
This Educational Technology site lists common learning objectives and then provides a suggested list of Apps that will help meet that objective.
APPitic
1800+ Educational Apps Organized by Theme, Age, and Need
TCEA
This Site has an App Matrix that sorts apps by subject and skill. If an app is yellow it is free. Hat Tip to Elizabeth Helfant
Fun Educational Apps
This site reviews apps for iPad, iPod, iPhone
Etc
...by age. It has Free Friday App recommendations.
Apps in Education
This blog is dedicated to finding useful Educational Apps, explaining how to integrate them, and archiving them in easily searchable categories.
Moms with Apps
"
The Moms With Apps blog supports family-friendly developers seeking to promote quality apps for kids and families."
Mobile Learning 4 Special Needs
This is Mark Coppins' list of the best apps for learners with Special Needs but many are great for all learners.
Apps 4 Children with Special Needs
This is a site designed specifically to match
apps
with learning challenges. Their Free Educational Apps Tab is worth the visit for all learners!
50 Popular Apps for Struggling Readers and Writers
TechChef4U
Lisa Johnson's Blog that recommends apps for education. She has an upcoming App that will screen, sort, and recommend other FREE apps for education.
AppyHour4U
This is a weekly Podcast with two funny and very knowledgeable ladies about the latest apps for education.
<0>MakeUseOf's List of 100 Best Mac Apps0>
These Apps are strictly for Macs, not iPads.
Hot Apps 4 HOTS
This free
iBook
contains thoughtfully crafted lessons for Higher Order Thinking Skills
Megan's Recommended Apps for Deployment
This is the list of mostly free Apps I recommended be placed on the iPads prior to deploying them along with their function.
Evaluation and Reflection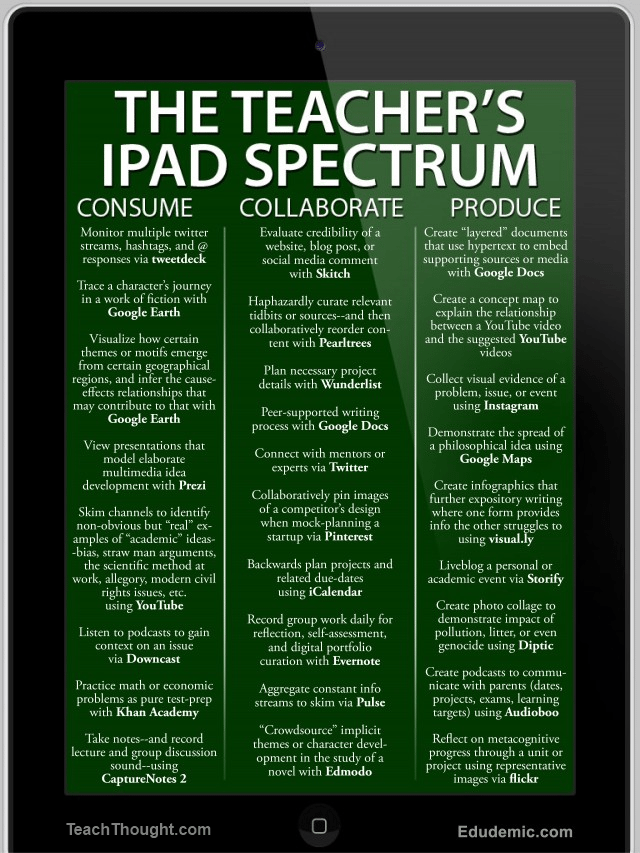 [Source:
Teach Tought
] and
Edudemic